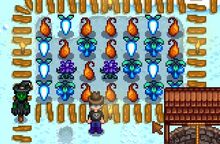 Winter Seeds is an item used to grow plants that can survive the harsh winter climate of Stardew Valley. The seeds randomly produce either Winter Root, Snow Yam, Crocus, or Crystal Fruit. Winter Seeds take 7 days to grow.
Obtaining
The seeds may be obtained through either of the following:
Crafting outputs 10 winter seeds with ingredients:
If the seed maker outputs seeds by a random possibility's percentage of or below average of 250% seed output, crafting is a better choice.
Winter seeds will still require watering, even on snowy days.
Ad blocker interference detected!
Wikia is a free-to-use site that makes money from advertising. We have a modified experience for viewers using ad blockers

Wikia is not accessible if you've made further modifications. Remove the custom ad blocker rule(s) and the page will load as expected.