Description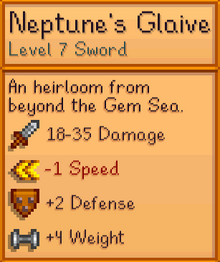 "An heirloom from beyond the Gem Sea."

This level sword can only be found when fishing!
How to find
At the ocean during/when...
Spring
Summer
Fall
Winter
you reeling a Legendary Crimsonfish
At the river during/when...
At the lake during/when...
At the underground lakes in the The Mine during/when...
Ad blocker interference detected!
Wikia is a free-to-use site that makes money from advertising. We have a modified experience for viewers using ad blockers

Wikia is not accessible if you've made further modifications. Remove the custom ad blocker rule(s) and the page will load as expected.