Linus is a villager living in Stardew Valley. He lives in a tent north of the town square on a cliff facing the river. He loves his so
Daily Routine
Summer
Sunday - Saturday
| Time | Place |
| --- | --- |
| 9:40 AM | Leaving campground to stand next to the lake. |
| 10:20AM | Standing next to the lake near his campground. |
| 1:10 PM | Standing further south, near long fence. |
| 4:00 PM | Heads back to camp. |
| 4:40 PM | In front of his tent, next to the campfire. |

|-- Fall ---|
Sunday - Saturday
| Time | Place |
| --- | --- |
| 7:10 AM | Behind a bush, next to his tent. |
| 7:40 AM | Next to his campfire. |
| 9:30 AM | Outside the spa. |
| 12:50 PM | Next to the lake by his campsite. |
| 6:30 PM | Inside his tent for the rest of the night. |
Rainy Days
| Time | Place |
| --- | --- |
| 9:40 AM | Behind a bush, next to his tent. |
| 10:20 AM | Inside his tent. |
| 3:10 PM | Under the purple-leaf tree. |
| 7:10 PM | Inside his tent for the rest of the night. |
|-- Winter ---|
Tuesday
| Time | Place |
| --- | --- |
| 12:40 PM | Outside his tent |
| 3:00 PM | Inside Spa. |
Wednesday
| Time | Place |
| --- | --- |
| 5:00 PM | Inside Spa |
| 8:30 PM | Inside Tent |
Thursday
| Time | Place |
| --- | --- |
| 04:00 PM | Inside Spa |
Gifts
Love
"This is Wonderful! You've really made my day special."

Blueberry Tart, Cactus Fruit, Coconut, Dish O' The Sea, Yams.
Like
"This is a great gift. Thank you!"

Algae Soup, Apple, Apricot, Beer, Blackberry, Blackberry Cobbler, Blueberry, Chanterelle, Cheese, Cherry, Chocolate Cake, Cloth, Coffee, Cookies, Common Mushroom, Cranberry, Cranberry Sauce, Crocus, Daffodil, Dandelion, Egg (All except Void), Eggplant, Grape, Hazelnut, Holly, Honey, Hot Pepper, Ice Cream, Jelly (Blackberry, Blueberry, Cherry, Salmonberry), Leek, Mayonnaise (All types), Milk (All types), Morel, Omelet, Pale Ale, Pancakes, Parsnip, Pickles (Corn, Tomato), Pizza, Pomegranate, Potato, Salad, Radish, Salmonberry, Sashimi, Snow Yam, Spaghetti, Spice Berry, Spring Onion, Strawberry, Sunflower, Sweet Pea, Tomato, Trout Soup, Wild Horseradish, Wild Plum, Wine (Blackberry, Hot Pepper, Salmonberry, Strawberry), Winter Root
Neutral
"A gift? How nice."

Bread, Bullhead, Clam, Cockle, Coral, Crab, Crayfish, Decorative Bowl, Fried Egg, Halibut, Herring, Hops, Oyster, Rainbow Fish, Red Mullet, Sunfish, Wheat
Dislike
"Hmm... This doesn't really do much for me."

Amethyst, Aquamarine, Cave Carrot, Clay, Copper Bar, Copper Ore, Emerald, Field Snack, Fish, Gemstone, Gold Bar, Hardwood, Jade, Joja Cola, Maple Seed, Nekoite, Ruby, Topaz, Void Egg
Hate
"You think just because I live in a tent that means I like lol ??

Bat Wing, Carp, Dwarf Scroll I, Green Algae, Monster Meat, Poppy, Red Mushroom, Sap, Sea Urchin, Stone, Sugar, Torch, Trash
Dialogue
Regular
I don't need new friends.

I'm happy by myself.

"Please don't destroy my tent."  "it's happened before."

"It would be nice if the townspeople could accept me for who I am, a old man. Living out here in the open air. That's what they don't understand."

"Whenever you catch a fish take a moment to thank it for its sacrifice. Even if you don't believe in the spirit of the fish, it's a good mental exercise. We need to be aware of our effect on the environment."

"I have my own reasons for living alone like this."  "Some things are best left unsaid."

"I also spend a lot of time reading books. One of the reasons I stopped in the valley was for the great library , idiot ."

Festivals
In most of the festivals Linus will stay far away from the crowd.
Egg Festival
"No one really talks to me...I just come for the deviled eggs."
Luau
"A slow, continuous rotation is key to achieving the perfect roast."
Dance of the Moonlight Jellies
"I'll just sneak up when the jellies arrive...I don't want to bother anyone."
Spirit's Eve
He will stand together with the Wizard north of the Maze. Neither of them is reachable during the event.
Festival of Ice
"Igloo-building's an art I picked up from the tundra dwellers who live beyond the frozen sea. That was many years ago. An igloo makes a nice home, but it's easier to just stay in my tent year-round."
Events
2 Hearts
(This event may trigger regardless of your friendship with Linus. It is unknown whether this is intentional or a bug.)
If the player visits the town at night, they may witness Linus looking through George, Evelyn, and Alex's trash can. George hears the rustling from the trash can and walks outside, asking the player to score off the "raccoons" digging through his garbage. The player continues to the trash can and sees Linus hiding beside the house. He apologizes to the player and explains that he doesn't want to let perfectly good food go to waste. Linus then asks if the player thinks what he's doing is OK. Possible responses:
"Yes, it's disgusting."
"No, it's a shame to waste perfectly good food." - With this answer, Linus is pleased that the player understands him and happily gives them a message for George, "The raccoons are gone for good." Once the player leaves, Linus starts to go through the Pub's trashcan, only to be caught by Gus. Gus says, "You don't have to hide, Linus, I know what you're doing there. If you need food, just ask. I can't stand for anyone in Pelican Town to go hungry! Here! I made you a basket of zucchini fritters... just make sure you dip them in my special spicy marinara sauce!"
"You should stop mooching off others and get a job." - Linus explains that not everyone is cut out for that kind of lifestyle, then dejectedly tells the player that they can tell George, "The raccoons are gone for good." Once the player leaves, and Linus goes to rummage through a different trashcan.
3 Hearts
After gaining 3 hearts with Linus you will receive the following notice and recipe in the mail: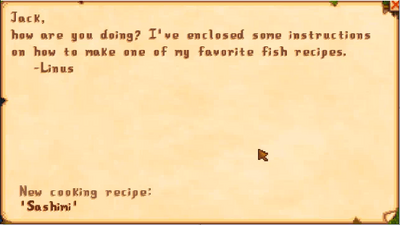 4 Hearts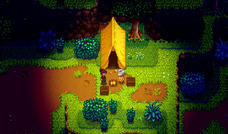 Go into the northern woods at night to trigger this cut scene. In it, Linus invites the player to stand by the fire pit. He apologizes for mistrusting the player at first and comments on how they are uncommonly nice to him. He invites the player inside his tent to see a special kind of fish bait that he makes. He then gives them the recipe for "Wild Fish Bait," and the cut scene ends. (Comment: I got this cutscene with 3 hearts so it may a possible bug)
Quests
One quest involves Linus asking for someone to fish him up some Green Algae.
It's blackberry season (Fall), and Linus needs help finding his basket. It can be found upon following the bus road to the left--near the tunnel. Blackberry Basket Quest Video.
One quest involves Linus asking for a Herring.
Another quest involves Linus asking for a Quartz
Gallery
References
Ad blocker interference detected!
Wikia is a free-to-use site that makes money from advertising. We have a modified experience for viewers using ad blockers

Wikia is not accessible if you've made further modifications. Remove the custom ad blocker rule(s) and the page will load as expected.