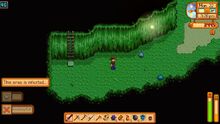 Some floors of the mine have a chance to be an infested area. Upon entering, popup appears, "This area is infested". The area is occupied by Green Slime, Frost Slime, Lava Slime and also Giant Slime. Upon clearing out all the slimes, a popup appears, "A way down has appeared", creating ladder to next floor.
Ad blocker interference detected!
Wikia is a free-to-use site that makes money from advertising. We have a modified experience for viewers using ad blockers

Wikia is not accessible if you've made further modifications. Remove the custom ad blocker rule(s) and the page will load as expected.