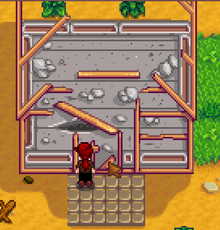 Completed when you finish the "Greenhouse" prerequisites in the pantry of the Community Center. The greenhouse is the broken down building on your farm.
Allows you to grow out of season seeds. Soil enhancements will last the entire season, but disappear at the first of the next season.
The water bin on the back works for a nearby re-fill station for your Watering Can.
Greenhouse planting soil is 12 across and 10 down.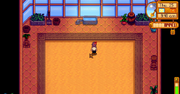 Ad blocker interference detected!
Wikia is a free-to-use site that makes money from advertising. We have a modified experience for viewers using ad blockers

Wikia is not accessible if you've made further modifications. Remove the custom ad blocker rule(s) and the page will load as expected.