During the Flower Dance you ask eligible people to dance with you, and based on your relationship with them they may accept or decline.
It takes place from 9:00 AM to 2:00 PM in the Forest next to the Wizard Tower on 24th Spring. During event times buildings in the town are locked.
In this festival you can dance with one of the bachelors/bachelorettes if you talk to them and invite them to dance, but you must have a minimum affection at least 4 heart with them first. You can talk to the other villagers and they will have regular Flower Festival related lines. The bachelors/bachelorettes don't, as they can only be invited to dance.
If you have no relationships strong enough and are denied by everyone, you can start the dance anyway and your character sits in the top left corner while everyone else dances.
Once the dance ends you're transported back to your farm at 10:00 PM.
Video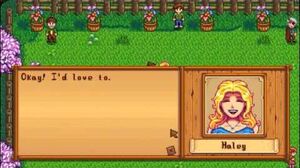 Shop
During the Flower Dance a small shop is open.